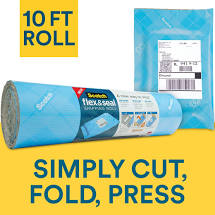 If you have an online store selling Tees (particularly one at a time) you may be interested in a new no-fuss packing and shipping concept introduced by 3M. It's their Scotch Brand Flex and Seal Roll.
The blue padded material comes in rolls that can be trimmed to suit the size of item you're shipping, in this case a T-shirt. It's self-sealing and generally very convenient in other ways too.
Before ordering in bulk you can test the material because it's available from retailers like Amazon, Staples etc. for about $15 a 10 ft roll.