Re-labelling of Tees and other imprintable  garments is not new. But it requires unpicking, removal of the original label, insertion of the replacement label and re-sewing. This has always been quite the labour-intensive process and demands a compelling reason to remove the original label to justify it. Later when direct-printed or transfer-applied labels came along it made the task a little easier but there was still a lot of unpicking and re-sewing seams involved.
All of this gave rise to specialist re-labelling services.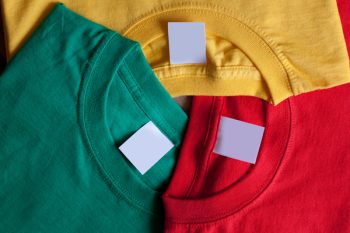 Then tear-aways came along and made the whole re-labelling process a lot easier. In the UK, embroidery and print shops have been demanding tear-away labels from manufacturers in their stock styles. This allows embroiderers and printers to bypass re-labelers by simply tearing out the original label and direct-printing or transferring a printed label.
But tear-aways have not meant the end of re-labeling specialists because while some only want their label to identify their brand, others at the upper end of the market want it to be an integral part of the aesthetics of the garment. The latter group are keeping labelling specialists in business.
How much does labelling play a part in your shop and brand?