The thumbnail version:
New shops are springing up like mushrooms
There is much to consider in equipment and supplies
The first piece of equipment is a press
The full version:
So you're planning to set up your own shop. Whether you've worked in a textile shop or not, this series will be helpful in determining what you're going to need in the way of equipment and supplies. We'll start with the assumption that you have suitable space set up for your operation, be it a rented space in an industrial complex or your own garage.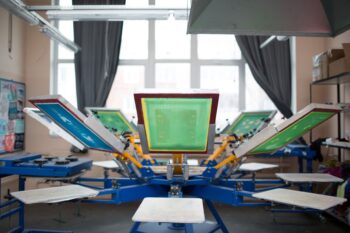 The first item you're going to need is a press. Unless you have deep pockets and a reason to believe that you'll be printing hundreds of Tees an hour every day right off the bat, you'll be looking at a manual press.
There are many manual presses on the market that range from table-top models to multi-station models. Don't make a press decision on your own! Ask a number of sources for advice. Read. Research. Watch videos. Talk to the people at Stanley's.
Stanley's has access to established manual press brands with tried and tested models. Your press is the hub of the shop, make sure you buy a good one.
The next post in the series will deal with gelling and curing your prints.