The thumbnail version:
You're going to be making film positives for which a printer will be required.
There are various options including having another shop do it for you.
Research is required.
The full version: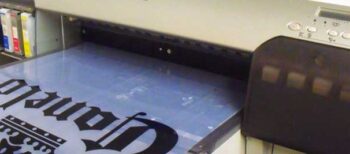 You are going to be making stencils and for that you'll need a film printer. There are many types of printers but what's most commonly used by small shops for producing film is an inkjet printer. Before buying a printer it would be wise to do some research including talking to few screen shop owners to confirm which printer would likely be best for you.
You'll use inkjet film which has one side coated. The coating is what the ink holds onto. Inks differ—Epson uses UV-blocking ink whereas others use dye ink which is supposed to stop all light. Again, do your research.
To properly create your art you'll need software such as Adobe Illustrator or Photoshop. If you're new to these programs just know that there is a learning curve and it pays to get some qualified instruction to help flatten the curve. Then after creating the art you'll need software for printing it and the most common program is AccuRIP. But, like everything else involved in setting up the shop, you need to do your research.
And finally, if initially printing your own film positives is a bit much to handle, you should be able to strike a deal with another local shop to do it for you.