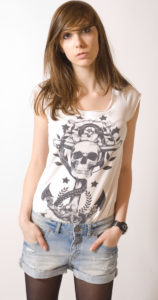 They're as popular as they ever were—vintage prints.
This is probably because people seem to like a "lived-in" Tee or sweat but don't have the patience to wait for many washes for the print to fade. And besides, ink quality and printing techniques have improved so much in the past number of years that images just don't fade as readily anymore.
So, if you want a lived-in look, it has to be printed that way. Here are a few tips for achieving this:
Designs must forego vibrant colours and stay with muted, washed-out colours.
Lose the under-base white.
In the design aim to use the colour of the shirt as part of it, in other words un-printed areas.
Water-based and discharge inks are an option to consider.
Softening additives are an option too.
A little experimenting could be a good idea.