The thumbnail version:
Stanley's doesn't offer untested products.
Inknovators plastisol has passed the tests
The full version:
Wendy has been overseeing the introduction of Inknovators plastisol, the new brand being offered by Stanley's as a solution to the Wilflex and Rutland supply shortages. Of course part of the process was testing the ink to ensure that it met the standards Stanley's customers have come to expect.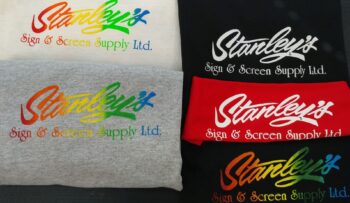 Tests were conducted by Craig at Stanley's Cambridge warehouse and by Reid Gennutt in his Calgary print shop. In both instances the tests met the standards required for ease of application, curability, opacity, colour accuracy, and washing.
Craig's test prints are shown here and some of Reid's extensive comments are as follows:
" . . .the ink is very smooth and light. It stirs wonderfully and spreads onto the screen with ease.
"Flooding the screen was no effort and the ink passed through the screen very nicely."
"I ran the shirt through the conveyor dryer for a total of about 35 -40 seconds, the ink on the shirt reaching about 350 degrees."
"I ran the shirt through a standard cold wash cycle with cold water. It was run on its own and not turned inside out. Given no special treatment or anything. The prints held up beautifully and they look as good as they did coming out of the dryer."
"It prints and cures nicely and definitely would work as a good substitute for Wilflex if the products are not going to be available for some time."
So, there you have it!
Stanley's is on standby to deal with your ink requests.